Nieuwe antistollingsmiddelen: werking, risico's en belangen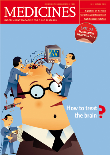 Nieuwe antistollingsmiddelen zijn in veel opzichten beter dan de gangbare methoden om de bloedstolling op peil te houden. Het gaat om de middelen Pradaxa en Xarelto, medicijnen die het dagelijks leven van een grote groep trombosepatiënten vergemakkelijken. Dat komt door de dosering en het feit dat deze stoffen minder gevoelig zijn voor verstoringen door bijvoorbeeld het dieet. Bovendien is regelmatige controle door de trombosedienst vaak overbodig. Toch gaat de invoering in de praktijk traag, aangezien de middelen zijn door de registratie-autoriteiten al geruime tijd zijn toegelaten.
Voor Medicines schreef ik een artikel over de discussie en belangen rond de introductie van nieuwe anticoagulantia. Het ministerie van Volksgezondheid heeft de middelen per 1-1-2012 toegelaten, de invoering in de praktijk zal stapsgewijs verlopen.
On money and blood flows
Any pharmaceutical company wishing to see a new drug covered by health insurance must not only demonstrate its effectiveness but also its cost-effectiveness. That the – usually complex – pharmacoeconomic analyses are not decisive becomes apparent yet again for new
anticoagulation drugs. Not even if the issue is tackled by the Health Council.