Harde chemie tussen gevoel en verstand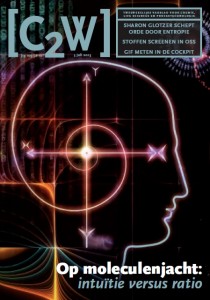 Chemici blijken kandidaat-geneesmiddelen deels op intuïtie te selecteren. 'Het buikgevoel bestaat, we hebben er dagelijks mee te maken.' Kan begrip van dat proces bijdragen aan betere beslissingen?
Voor Medicines en C2W schreef ik een artikel over keuzepsychologie bij complexe beslissingen in het laboratorium. Het blijkt namelijk dat als chemici veelbelovende moleculen moeten selecteren ze maar op een of twee kenmerken letten. Zelf denken ze dat ze zo'n zes of acht verschillende parameters nalopen, maar dat blijkt in de praktijk niet het geval. Er wordt dus sterk vereenvoudigd en op basis van een onderbuikgevoel gekozen. Dat resulteert in een lage onderlinge consensus over wat nu eigenlijk een veelbelovende verbinding is.
Cover artikel in C2W 12, vakblad voor Chemie, Life Sciences en Procestechnologie.
Artikel Compoundselectie (pdf)